안녕하십니까
아시아조선(주)을 방문해주신 여러분을 환영합니다.
"작지만 강한" 아시아조선의 뿌리는 1988년 6월 개인조선소에서 시작되어, 2009년 10월 아시아조선(주) 라는 상호로 법인이 설립됨으로써 시작되었다.
아시아조선(주)는 건조기술 및 신용확보 등을 바탕으로 특히 어선과 차도선, 유람선 등 특수선 만을 수주, 생산, 발전 시켜 건조하는 조선소로써 부동의 위치를 확보하고, ISO 9001인증 및 각종특허 개발도 병행하여 미래 지향적인 조선소를 입지를 다져가는 조선소 입니다.
또한. 아시아조선(주)는 고객 감동을 위하여 가장 짧은납기, 최고의 품질을 사명으로 더욱 전진할 것 입니다.
대표 이영춘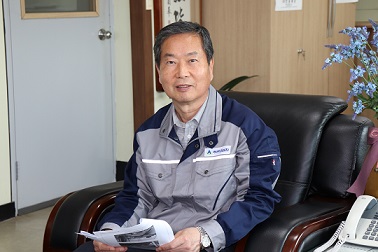 Introduction
"Small but Strong" – Asia Shipbuilding Co., Ltd. (www.aasiayard.co.kr) launched its business as a private shipbuilding company since June, 1988. On January 2009, Asia Shipbuilding Co., Ltd had been established as a incorporated company. Asia Shipbuilding Co., Ltd. has developed special purposed field, i.e. fishing boats and specialized ships which typically required outstanding ship building technology and secured good credibility.
Moreover, the company have obtained unchangeable position in excellent experience in fishing boat and specialized ships. It made us one of the most prospective company among small and medium size of shipbuilding companies. We have been certified with ISO 9001 and kept doing business with non of floating debt.
The company's business boundary is not only for domestic but also for international. Therefore we have initiated to built and exported six shrimp fishing vessels for Morocco and we have exported more than seventy vessels to Honduras, Angola, Panama. It would be shown our exceptional motivation and enthusiasm.
Therefore, we had honor of "Tower of Million Export" award, and "Export Tower of Kyungnam Province Exporter" award and etc. We are sure that we certainly step more further with our own technology and we are be able to gain and maintain right of patent and utility model which was authorized by the Korean Intellectual Property Office.
Specially, we won a project among shipbuilding from 6 centuries and successfully built and delivered five vessels when we attended for international bidding of tuna fishing vessel hosted at Tahiti of French Polynesia. Also we received excellent evaluation from French classification, which permanently stationed supervision, and French maritime affairs and fishing office.